Outdoor Living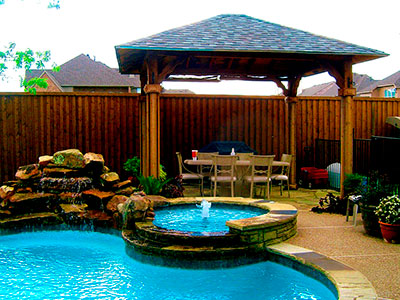 Texas has a great climate that is perfect for outdoor living. This is the reason why a lot of property owners opt to install outdoor features and amenities in their backyard or landscaped area. If you also want to have one in your property, you need to get the services of professional contractors. They can help you build the right kind of outdoor feature that will suit your needs and kind of lifestyle.
At LandTech Design, we can help you achieve your dream outdoor setup by installing carefully designed outdoor living features. We have decades of experience in this particular field of home improvement. We continue to hone our skills by keeping ourselves updated with the latest trends and installation techniques. When you call us, our team will assess the capacity of your outdoor area and consider your needs and preferences. We guarantee excellent workmanship and optimum functionality of your chosen features to let you enjoy the outdoors. If you're from Frisco, Little Elm, The Colony, Plano, Denton, McKinney, and Allen, TX, please call (972) 712-5293.
Outdoor Kitchens
You will surely love having an outdoor kitchen in your backyard. This amenity will let you enjoy the beauty of your landscape while cooking your favorite dishes. You can also dine alfresco style with your family and friends. The great thing about outdoor kitchens is that you can add any amenity you want. Some of the possible additions to your kitchen setup include grills, freezers, ovens, large storage cabinets, designer sinks, working tables, task lighting, and dining tables and chairs. Adding an entertainment system is also a great idea. With a fully furnished outdoor kitchen, you can have an enjoyable outdoor living experience.
Outdoor Fireplace
Another outdoor living feature that is a must in your backyard is an outdoor fireplace. But before you buy one, make sure that you get it from a reliable manufacturer. This type of fire feature should be made from sturdy materials and specifically designed for outdoor use. You may also consider custom-made fireplaces for truly personalized appeal. At LandTech Design, we can help you create one and install it on the perfect spot in your landscape.
Fire Pits
The fire pit design should always complement with other landscape elements and features. You can have it designed by professionals like us or opt for a pre-built one. The disadvantage of the latter is that the design options are limited. You have to be contented on the available designs offered by manufacturers. On the other hand, a custom-built fire pit will suit your needs and desired design. You can also choose from portable or fixed-type fire pit, depending on your preferences. Our people at LandTech Design have already designed and built numerous fire pits for Texas clients, so we can surely create one that will satisfy your needs.
Patios
Patios are the most popular outdoor living features. You can see them in almost every home in the state. They are the preferred amenity of most property owners because of the outstanding benefits that they provide. With these features, you can have additional living spaces right in front of your landscaping. You can use them for entertaining guests, special occasions, and rest and relaxation. Just call us and we will build one for you.
More Articles
Cities that are served in Texas (TX):
Frisco, TX
Little Elm, TX
Plano, TX
The Colony, TX
McKinney, TX
Denton, TX
Allen, TX